Speaker Presentations
in Heraldry and Genealogy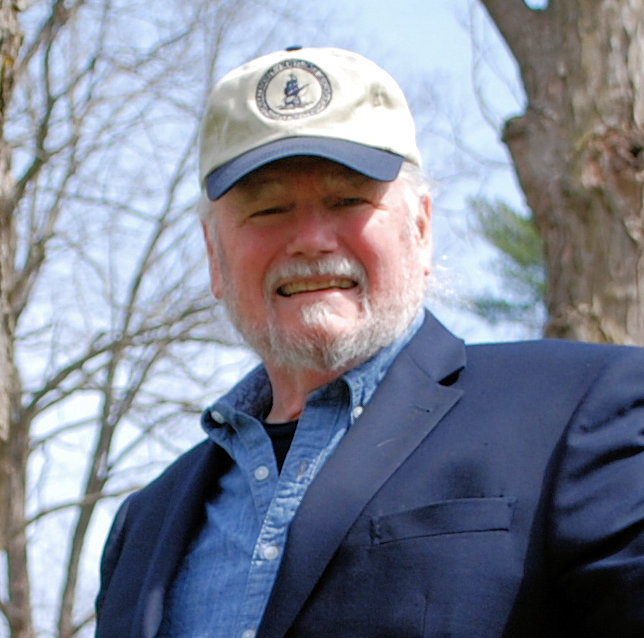 Introduction

David B. Appleton (B.S. degree in History) has been researching and teaching about heraldry for forty years and speaking about genealogy for thirty. (He has been researching his own genealogy for far longer.) These on-going interests have taken him all across the United States and Canada and to Europe on numerous occasions to participate in and speak at congresses and symposia on coats of arms and the uses of heraldry in genealogy. He has been elected an Associate member of the Académie Internationale d'Héraldique, as well as being a long-time member of the Genealogical Speakers Guild, the American Heraldry Society, the Royal Heraldry Society of Canada, The Heraldry Society (England), The Heraldry Society of Scotland, the American College of Heraldry, and the International Association of Amateur Heralds. He regularly participates in a number of heraldry, lineage and genealogy-related on-line groups, and is a member of five lineage societies (and is qualified to join at least three more, but there's only so much time, and money, available you know!). In addition to his illustrated lectures and presentations, he has written several books and numerous articles for a variety of publications on the topic of heraldry. He has also created a number of self-paced PowerPoint™ programs teaching various aspects of heraldry. (More specific information on these PowerPoint presentations can be found here.)

A listing, with brief explanatory descriptions, of many of his illustrated lectures and presentations may be found by clicking on this link.

A list of his upcoming and previous presentations may be found below.

_________________________________________________________________

See what others have said about David's presentations here.
_________________________________________________________________


Web Log

You might also be interested in visiting David's web log, or "blog", entitled Heraldry: Musings on an esoteric topic, which can be found on-line at http://blog.appletonstudios.com

You can also find David at the Genealogical Speakers Guild at https://www.genealogicalspeakersguild.org/directory-of-members/user/13/; and on Facebook at http://www.facebook.com/David.B.Appleton

Upcoming Presentations





Previous Presentations

"An Introduction to Heraldry for Genealogists", Arlington Genealogical Society, Arlington, TX, 2023

"A brief history of heralds and heraldic organizations in the United States of America following independence", XXXV International Congress of Genealogical and Heraldic Sciences, Cambridge, UK, 2022

"Fantastic Beasts and Where to Find Them in American Heraldry", Pinellas Genealogy Society, Largo, FL, 2022

"Finding Your New England Ancestors", Genealogy Friends of Haggard Library, Plano, TX, 2022

"In Their Footsteps: The Genealogical Tourist", Heritage Ranch Genealogy Society, Fairview, TX, 2022

"Finding Your New England Ancestors", Rockwall County Genealogical Society, Rockwall, TX, 2022

"In Their Footsteps: The Genealogical Tourist", Highland Park Public Library, Highland Park, TX, 2022

"An Introduction to Heraldry for Genealogists", Glen Cove Library, Glen Cove, NY, 2022

"A brief history of heralds and heraldic organizations in the United States of America following independence", 35th International Congress of Genealogical and Heraldic Sciences, Cambridge, UK, 2022

"Coats of Arms: Meanings and Myths", McKinney Public Library, McKinney, TX, 2022

"An Introduction to Heraldry for Genealogists", McKinney Public Library, McKinney, TX, 2022

"One Approach to Publishing Your Family History", North Collin County Genealogical Society, McKinney, TX, 2022

"Coats of Arms: Meanings and Myths", Helen Plum Library, Lombard, IL, 2022

"In Their Footsteps: The Genealogical Tourist", Arlington Genealogical Society, Arlington, TX, 2022

"Heraldry, History, and Revolutionary War Connections", Daughters of the American Revolution, Austin, Texas Colony, Austin, TX, 2022

"The Heralds Visitations, an Often Overlooked Genealogical Resource", Genealogy Club, Fountaindale Public Library District, Bolingbrook, IL (via Zoom), 2022

"An Introduction to Heraldry for Genealogists", Genealogy Club, Fountaindale Public Library District, Bolingbrook, IL (via Zoom), 2022

"Finding Your New England Ancestors", North Collin County Genealogy Society, McKinney, TX (via Zoom), 2021

"USS Monitor: The Brief Career, Death, and Resurrection of a Groundbreaking Ship", Sons of Union Veterans of the Civil War, Lt. Cmdr. Edward Lea Camp 2, Houston, TX (via Zoom), 2021

"Finding Your New England Ancestors", Northwest Indiana Genealogical Society, Griffith, IN (via Google Meet), 2021

"In Their Footsteps: The Genealogical Tourist", North Collin County Genealogical Society, McKinney, TX (via Zoom), 2021

"Heraldry, History, and Mayflower Connections", Oxford University Heraldry Society, Oxford, England (via Zoom), 2021

"An Introduction to Heraldry for Genealogists", 3M Company Genealogy Club, Bloomington, MN (via Zoom), 2021

"An Introduction to Heraldry for Genealogists", Larimer County Genealogy Society of Colorado, Fort Collins, CO (via Zoom), 2021

"An Introduction to Heraldry for Genealogists", Lake County Public Library, Merrillville, IN (via Zoom), 2021

"Heraldry, History, and Revolutionary War Connections", Daughters of the American Revolution, Balcones Chapter, Austin, TX (via Zoom), 2020

"A Brief History of Heraldry and Heraldic Usage in the United States", Magna Charta Dames and Barons 61st State Parliament, Temple, TX, 2020

"An Introduction to Heraldry for Genealogists", Lago Vista Genealogical Society, Lago Vista, TX, 2020

"An Introduction to Heraldry for Genealogists", Georgia Genealogical Society, Webinar, 2019

"An Introduction to Heraldry for Genealogists", Mesquite Historical and Genealogical Society, Mesquite, TX, 2019

"An Introduction to Heraldry for Genealogists", Austin Genealogical Society, Austin, TX, 2019

"The Westford Knight: Heraldic evidence of pre-Columbian Scots in America?", Royal Heraldry Society of Canada, Toronto Branch, Webinar, 2019

"In Their Footsteps: The Genealogical Tourist", Collin County Genealogy Society, Plano, TX, 2019

"Islamic Heraldry: An Introduction"; "It Was Funny ... Until we found it in real heraldry", Waco, TX, 2019

"An Introduction to Heraldry for Genealogists", Collin County Genealogy Society, Plano, TX, 2019

"Heraldry, History, and Magna Charta Connections", Houston Texas Colony of the Magna Charta Dames and Barons, 2019

"Camels in Heraldry: Symbols in War and Peace", XXXIII International Congress of Genealogical and Heraldic Sciences, Arras, France, 2018

"The USS Monitor: The History of a Groundbreaking Warship", Sons of Union Veterans of the Civil War, Arlington, TX, 2018

"The Gore Roll: An Early American Roll of Arms", Webinar, Toronto Branch, Royal Heraldry Society of Canada, Toronto, Canada, 2017

"The USS Monitor: The History of a Groundbreaking Warship", Daughters of Union Veterans of the Civil War, Arlington, TX, 2017

"An Introduction to Heraldry for Genealogists"; "One Approach to Publishing Your Family History"; "In Their Footsteps: The Genealogical Tourist"; "Finding Your New England Ancestors", Permian Basin Genealogical Society, Odessa, TX, 2017

"An Introduction to Heraldry for Genealogists", Texins for Genealogy, Dallas, TX, 2017.

"Chasing Chiltons", Cedar Hill Genealogy Society, Cedar Hill, TX, 2017. A copy of this presentation, with photographs, has been uploaded to the CHGS website here.

"An Introduction to Heraldry for Genealogists"; "In Their Footsteps: The Genealogical Tourist"; "Finding Your New England Ancestors", 20th Annual South Davis Conference and Family History Fair, Woods Cross, UT, 2017

"In Their Footsteps: The Genealogical Tourist", Cedar Hill Genealogical Society, Cedar Hill, TX, 2017

"Finding Your New England Ancestors", Williamson County Genealogical Society, Round Rock, TX, 2017

"Finding Your New England Ancestors", Webinar hosted by Ontario Genealogical Society, 2016

"In Their Footsteps: The Genealogical Tourist", Virginia Beach Genealogy Society, Virginia Beach, VA, 2015

"Heraldry, History, and the Making of a New Nation", Daughters of the American Revolution, Midland, TX, 2015

"Finding Your New England Ancestors", Virginia Beach Genealogy Society, Virginia Beach, VA, 2014

"The United States of America: The search for a national coat of arms", XXXI International Congress of Genealogical and Heraldic Sciences, Oslo, Norway, 2014. A copy of this presentation, with illustrations, is available in .pdf format here.

"The Westford Knight: heraldic evidence of pre-Columbian Scots in America?" and "It was funny ... until we found it in real heraldry", Fort Worth, TX, 2014

"One Approach to Publishing Your Family History", Cedar Hill Genealogy Society, Cedar Hill, TX, 2014

"One Approach to Publishing Your Family History", Virginia Beach Genealogy Society, Virginia Beach, VA, 2013

"Heraldry, History, and Revolutionary War Connections", Daughters of the American Revolution, Mesquite, TX, 2013

"Heraldry, History, and Revolutionary War Connections", Daughters of the American Revolution, Plano, TX, 2013

"Finding Your New England Ancestors", Webinar hosted by Rootsonomy.com (now Genealogists.com), 2013

"An Introduction to Heraldry for Genealogists", Grand Prairie Genealogical Society, Grand Prairie, TX, 2013

"Heraldry, History, and Mayflower Connections", Society of Mayflower Descendants, Euless, TX, 2012

"An Introduction to Heraldry for Genealogists", East Texas Genealogical Society, Tyler, TX, 2012

"The Heralds Visitations, An Often Overlooked Genealogical Resource", Rockwall County Genealogy Society, Rockwall, TX, 2012

"Heraldry on the Digital Frontier", XXX International Congress of Genealogical and Heraldic Sciences, Maastricht, The Netherlands, 2012

"An Introduction to Heraldry for Genealogists", Genealogy Friends of Plano Libraries, Plano, TX, 2012

"Heraldry, History, and Colonial Connections", Society of Colonial Wars and Colonial Dames XVII Century, Fort Worth, TX, 2012

"An Introduction to Genealogical Research in New England", Arlington Genealogy Society, Arlington, TX, 2012

"Heraldry, History, and Revolutionary War Connections", Prudence Alexander Daughters of the American Revolution, Dallas, TX, 2011

"An Introduction to Heraldry for Genealogists", Texins for Genealogy Club, Dallas, TX, 2011

"The Heralds Visitations: An Often Overlooked Genealogical Resource", Virginia Beach Genealogical Society, Virginia Beach, VA, 2011

"An Introduction to Heraldry for Genealogists", Lancaster Genealogy Society, Lancaster, TX, 2011

"An Introduction to Heraldry for Genealogists"; The Heralds Visitations: An Often Overlooked Genealogical Resource"; "Genealogical Research in New England"; "One Approach to Writing Your Family History", 15th Annual Angelina College Genealogy Conference, Lufkin, TX, 2011

"Mamluk Heraldry: An Introduction (Updated)", Known World Heraldic and Scribal Symposium, Chapel Hill, NC, 2011

"Heraldry, History and Colonial Connections", Colonial Dames XVII Century, Major James McGregor Chapter, Dallas, TX, 2011

"An Introduction to Heraldry for Genealogists", Ennis County Genealogical Society, Waxahachie, TX, 2010.

"The Winslows: An American Family and Its Coat of Arms", XXIX International Congress of Genealogical and Heraldic Sciences, Stuttgart, Germany, 2010. A copy of this presentation, with illustrations, is available in .pdf format here.

"Genealogical Research in New England", The Illinois St. Andrew Society, Chicago, IL, 2010.

"An Introduction to Heraldry for Genealogists", Virginia Beach Genealogy Society, Virginia Beach, VA, 2010.

"One Approach to Writing Your Family History", Grand Prairie Genealogy Society, Grand Prairie, TX, 2010.

"Heraldry: History, Hobby, and Magna Charta Connections", Magna Charta Dames and Barons, Dallas, TX, 2010.

"The Heralds' Visitations: an often overlooked genealogical resource", Friends of the Clayton Library, Houston, TX, 2010

"Heraldry, History and Mayflower Connections"; DFW Colony, Society of Mayflower Descendants in Texas, Dallas/Fort Worth, Texas, 2009

"Heraldry, History and Mayflower Connections"; Tyler Colony, Society of Mayflower Descendants in Texas, Tyler, Texas, 2009

"Flowers from the garden of heraldry"; Society for Creative Anachronism, Omaha, Nebraska, 2009

"The Westford Knight: heraldic evidence of pre-Columbian Scots in America?"; Society for Creative Anachronism, Omaha, Nebraska, 2009

"Heraldry: History, Hobby, and a Mayflower Connection"; Texas Society of Mayflower Descendants, Arlington, Texas, 2009

"A Very Brief Introduction to Heraldry"; Delta Kappa Gamma, Duncanville, Texas, 2008

"The Heralds' Visitations: an often overlooked genealogical resource"; BYU Conference on Family History and Genealogy, Provo, Utah, 2008

"One Approach to Writing Your Family History"; BYU Conference on Family History and Genealogy, Provo, Utah, 2008

"The Westford Knight: Heraldic Evidence of Pre-Columbian Scottish Explorers in America?"; XXVIII International Congress of Genealogical and Heraldic Sciences, Quebec City, Canada, 2008. A copy of this presentation, with illustrations, is available in .pdf format here.

"Scottish Heraldry Workshop"; Scottish Genealogy Group, Illinois St. Andrew Society, 2007

"An Introduction to Heraldry for Genealogists"; Fort Worth Genealogy Society, Texas, 2007

"An Introduction to Heraldry for Genealogists"; Dallas Genealogy Society, Texas, 2006

"Myth and Propaganda in the Book of St. Albans"; XXVII International Congress of Genealogical and Heraldic Sciences, St. Andrews, Scotland, 2006. A copy of this presentation, with illustrations, is available in .pdf format here.

"The Grammar of Blazon"; Waco, Texas, 2006

"It Was Funny ... Until We Found It in a Real Coat of Arms"; Waco, Texas, 2006

"The Grammar of Blazon"; Killeen, Texas, 2005

"It Was Funny ... Until We Found It in a Real Coat of Arms"; Killeen, Texas, 2005

"A guide for 'gentill men and honest persones': An overview of the heraldic portions of the Boke of St. Albans"; Longmont, Colorado, 2005

"How to Use Heraldry in Your Genealogy"; Duncanville Genealogy Society, Texas, 2005

"A Brief History of Heraldry, Heraldic Usage in the United States, and an Introduction to Heraldry for Genealogists"; 4th Annual Burress Chair Genealogy Workshop, Howard Payne University, Brownwood, Texas, 2005

"An Introduction to Heraldry for Genealogists"; Grand Prairie Genealogical Society, Texas, 2004

"The Gore Roll: An 18th Century American Roll of Arms"; XXVI International Congress of Genealogical and Heraldic Sciences, Bruges, Belgium, 2004. A copy of this presentation, with illustrations, is available in .pdf format here.

"An Introduction to Heraldry for Genealogists"; Van Zandt County Genealogical Society, Texas, 2004

"The Book of St. Albans: An Overview of a Medieval Treatise on Heraldry"; Harrisburg, Pennsylvania, 2004

"An Introduction to Heraldry for Genealogists"; Duncanville Genealogy Society, Duncanville, Texas, 2003

"New Directions in Heraldry"; XXV International Congress of Genealogical and Heraldic Sciences, Dublin, Ireland, 2002. A copy of this presentation, with color illustrations and charts, is available in .pdf format here.

"An Introduction to Heraldry for Genealogists"; Texas Czech Genealogical Society, Bryan, Texas, 2002

"Islamic Heraldry: An Introduction", Albuquerque, New Mexico, 2002. A copy of this presentation, with color illustrations, is available in .pdf format here.

"The Use of Bordures in Heraldry: A Statistical Survey"; Minneapolis, Minnesota, 2001

"The Use of Computers in Heraldry"; XXIV International Congress of Genealogical and Heraldic Sciences, Besançon, France, 2000. A copy of this presentation (though some of the website links cited in it are outdated or have been moved) is available in .pdf format here.

"Augmentations of Arms"; Houston, Texas, 2000

"Heraldry Is An Art, Not A Science"; Uppsala, Sweden, 1999

"Identity Through Heraldry In A Non-Heraldic Culture: The use of heraldry and quasi-heraldic devices by government, business, institutions and associations in the United States of America"; XXIII International Congress of Genealogical and Heraldic Sciences, Turin, Italy, 1998. An copy of this presentation, with color illustrations, in .pdf format is available here.

"Eastern European Heraldic Style"; Rochester, New York, 1997

"The Grammar of Blazon"; Vancouver, British Columbia, 1995

"Early Period Heraldic Style: An Introduction"; Orlando, Florida, 1994

"Regional Style Heraldry"; with Andrea Habura; Chicago, Illinois, 1993

"The Grammar of Blazon"; Boston, Massachusetts, 1992

"Muslim Heraldry, An Introduction"; Leavenworth, Kansas, 1988





Published Works

"A brief history of heralds and heraldic organizations in the United States of America following independence", Proceedings of the XXXV International Congress of Genealogical and Heraldic Sciences, Cambridge, UK, 2023, pp. 234-242


"Whence the Winslow Motto? Or, A Study and Correction of the Winslow Coat of Arms", with Ruth Major; Hogtown Heraldry, The Toronto Branch of the Royal Heraldry Society of Canada, Vol. 31, Issue 1, Spring 2021, pp. 9-10

"Bookending Mary (Chilton) Winslow", Winslow Heritage Society Newsletter, Vol. 8, No. 1, February 2021, pp. 2-5

"Is That a Bicycle Tire on the Crest? The evolution of an emblazon"; The Armiger's News, The American College of Heraldry, Vol. XXXXIII, No. 1, Winter 2021, pp. 8-10

"Whence the Winslow Motto? Or, A Study and Correction of the Winslow Coat of Arms", with Ruth Major; The Armiger's News, The American College of Heraldry, Vol. XXXXIII, No. 1, Winter 2021, pp. 26-27

"Whence the Winslow Motto?", with Ruth Major; Winslow Heritage Society Newsletter, Vol. 7, No. 4, November 2020, pp. 2-6

"Is That a Bicycle Tire on the Crest? The evolution of an emblazon"; Hogtown Heraldry, The Toronto Branch of the Royal Heraldry Society of Canada, Vol. 30, Issue 3, September 2020, pp. 13-14

"Is That a Bicycle Tire on the Crest? The evolution of an emblazon"; Winslow Heritage Society Newsletter, Vol. 7, No. 3, August 2020, pp. 12-14

"A Guide for Gentill Men and Honest Persones: An overview of the heraldic portions of a fifteenth century treatise: The Boke of St. Albans"; Hogtown Heraldry, The Toronto Branch of the Royal Heraldry Society of Canada, Vol. 30, Issue 1, April 2020, pp. 5-7

"The United States of America: The Search for a National Coat of Arms", Hogtown Heraldry, The Toronto Branch of the Royal Heraldry Society of Canada, Vol. 29, Issue 4, November 2019, pp. 12-15

"A Coat of Arms in 21st Century America!?!?", The Armigers News, A Quarterly Journal for Members of the American College of Heraldry, Vol.XXXXI, No. 3 (Summer 2019), p. 8

"Should Heraldry Be Replaced by a Logo?", Pro Heraldica USA, August 8, 2018, http://proheraldica.com/blog/should-heraldry-be-replaced-by-a-logo/, and in German at Pro Heraldica, https://pro-heraldica.de/blog/sind-wappen-durch-logos-ersetzbar/

"A Coat of Arms in 21st Century America!?!?", Pro Heraldica USA, July 4, 2018, http://proheraldica.com/blog/family-crest-21st-century-america/, and in German at Pro Heraldica, https://pro-heraldica.de/blog/wappen-in-den-usa-im-21sten-jahrhundert/

Letter to the Editor, a response to the editorial in the previous issue, which stated that "the American flag is based on the Washington arms", Heraldry in Canada, Volume 50, No. 2-3-4 February 2017

"A guide for 'gentill men and honest persones': An overview of the heraldic portions of a Fifteenth Century treatise: The Boke of St. Albans"; Hogtown Heraldry, The Toronto Branch of the Royal Heraldry Society of Canada, Vol. 27, Issue 1, January 2017

"Christmas Coat of Arms," Hogtown Heraldry, The Toronto Branch of the Royal Heraldry Society of Canada, Vol. 27, Issue 1, January 2017

"An Interesting Old Spanish Armorial Digitized," Hogtown Heraldry, The Toronto Branch of the Royal Heraldry Society of Canada, Vol. 26, Issue 2, April 2016

"A New Take on Old Arms," Hogtown Heraldry, The Toronto Branch of the Royal Heraldry Society of Canada, Vol. 26, Issue 1, January 2016

"The Wrong Heraldry Can Be Deadly," Hogtown Heraldry, The Toronto Branch of the Royal Heraldry Society of Canada, Vol. 25, Issue 3, October 2015

"The 400 Year Old Colours of Heraldry," Hogtown Heraldry, The Toronto Branch of the Royal Heraldry Society of Canada, Vol. 25, Issue 1, March 2015

"Heraldry Is All Around Us", Pro Heraldica USA, December 3, 2014, http://proheraldica.com/blog/heraldry-around-us/

"The United States of America: the Search for a National Coat of Arms," Proceedings of the XXXI International Congress of Genealogical and Heraldic Sciences, Oslo, Norway, 2014

Quoted in "New Kensington post office seal's origin remains a mystery" by Emily Balser, Valley News Dispatch, Western Pennsylvania, August 9, 2014, http://triblive.com/neighborhoods/yourallekiskivalley/yourallekiskivalleymore/6532276-74/eagle-seal-office#axzz3AU3z58ln

"Regarding the Dummer family arms," The Heraldry Gazette, New Series 132, June 2014, p. 15

"Symbols That Represent the United States of America in Heraldry," The Armiger's News, A Quarterly Journal for Members of the American College of Heraldry, Vol. XXXVI, No. 3, Summer 2014

Quoted in "How Canada became home to some of the world's more visually stunning - and fun - heraldry" by Tristin Hopper, National Post, March 27, 2014, http://news.nationalpost.com/news/canada/how-canada-became-home-to-some-of-the-worlds-more-visually-stunning-and-fun-heraldry

"Prospects at the Dawn of the Third Millennium: The Use of Computers in Heraldry"; The Armiger's News, A Quarterly Journal for Members of the American College of Heraldry, Vol. XXXV, No. 3, Summer 2013

"Heraldry on the Digital Frontier", Proceedings of the XXX International Congress of Genealogical and Heraldic Sciences, Maastricht, The Netherlands, 2012

"The Black Shield of Falworth - revisited", The Heraldry Gazette, New Series 120, June 2011, p. 16

"The Winslows: An American Family and Its Coat of Arms", Genealogica & Heraldica: Proceedings of the XXIX International Congress of Genealogical and Heraldic Sciences, Stuttgart, Germany, 2010. A copy of this presentation, with illustrations, is available in .pdf format here.

"A Brief Introduction to Heraldry", Retread, Newsletter of the Creative Retirement Special Interest Group of American Mensa, Inc., Issue No. 123 (Nov/Dec 2008)

"The Heralds' Visitations: an often overlooked genealogical resource", Syllabus of the BYU Conference on Family History and Genealogy, July 29-August 1, 2008, pp. 406-409

"One Approach to Writing Your Family History", Syllabus of the BYU Conference on Family History and Genealogy, July 29-August 1, 2008, pp. pp. 76-79

"The Westford Knight: Heraldic Evidence of Pre-Columbian Scottish Explorers in America?"; Proceedings of the XXVIII International Congress of Genealogical and Heraldic Sciences, Quebec, Quebec, Canada, June 2008. A copy of this paper, with illustrations, is available in .pdf format here.

"Blaisdell Coat of Arms Discredited", The Blaisdell Papers, Vol. 15, No. 4 (December 2007), p. 304

Camels In Heraldry, privately published, 2007 (available for purchase here)

The Gore Roll: An Early American Roll of Arms, privately published, 2006 (available for purchase here)

"Myth and Propaganda in the Book of St. Albans", Proceedings of the XXVII International Congress of Genealogical and Heraldic Sciences, St. Andrews, Scotland, 2006

"On Heraldic Proper: a Response", Gonfanon, Newsletter of the Royal Heraldry Society of Canada, Vol. 17, No. 2, Summer 2006, pp. 3-4

"Introducing Heraldry to Genealogists", The American Herald: Newsletter of The American Heraldry Society, Vol. 1, Issue 1 (May 2006), pp. 2-4, http://www.heraldrysociety.us/Newsletters/americanherald1.12006.pdf

"a guide for 'gentill men and honest persones': An overview of the heraldic portions of a fifteenth century treatise: The Boke of St. Albans"; The Armiger's News, A Quarterly Journal for Members of the American College of Heraldry, Volume XXVII, Number 4 (Autumn 2005)

"A guide for 'gentill men and honest persones': An overview of the heraldic portions of a Fifteenth Century treatise: The Boke of St. Albans"; Proceedings of the Known World Heraldic Symposium ["KWHS"] (Society for Creative Anachronism ["SCA"]), Longmont, Colorado, 2005

"The Gore Roll: An 18th Century American Roll of Arms", The Armiger's News, A Quarterly Journal for Members of the American College of Heraldry, Volume XXVII, No. 2 (Spring 2005)

"Islamic Heraldry: An Introduction", The Journal for Chivalric, Genealogical and Heraldic Sciences, October 2004, http://users.panola.com/AAGHS/manluk.html (It appears that the pictures no longer appear with this article. For another version with the illustrations, go here.)

The Gore Roll: an 18th Century American Roll of Arms, Proceedings of the XXVI International Congress of Genealogical and Heraldic Sciences, Brugge, Belgium, 2004

The Boke of St. Albans: A Modern English Rendition of a Medieval Heraldic Treatise, privately published, 2003 (Available for purchase here)

"New Directions in Heraldry"; Baronage Press, Vol. VII, No. 5, September-December 2002, http://www.baronage.co.uk/2002d/appleto1.html

"New Directions in Heraldry"; Proceedings of the XXV International Congress of Genealogical and Heraldic Sciences, Dublin, Ireland, 2002

"Islamic Heraldry: An Introduction", Proceedings of the Outlands (SCA) Heralds and Scribes Symposium, 2002

"Prospects at the Dawn of the Third Millennium: The Use of Computers in Heraldry"; Proceedings of the XXIV International Congress of Genealogical and Heraldic Sciences, Besançon, France, 2000

"Augmentations of Arms", Proceedings of the KWHS (SCA), Houston, Texas, 2000

"Heraldry Is An Art, Not A Science"; Proceedings of the KWHS (SCA), Uppsala, Sweden, 1999

"The Turband: A Response"; Coat of Arms, Vol. XII, No. 184, Winter 1998

"Identity Through Heraldry In A Non-Heraldic Culture: The use of heraldry and quasi-heraldic devices by government, business, institutions and associations in the United States of America"; Proceedings of the XXIII International Congress of Genealogical and Heraldic Sciences, Turin, Italy, 1998

"The Exception to the Rule: Differencing Arms in German Heraldry: A Commentary"; The Armiger's News, Vol. XX, No. 2, Spring 1998

"[Early] Period Style: An Introduction"; Proceedings of the KWHS (SCA), Orlando, Florida, 1994 (also at http://www.sca.org/heraldry/laurel/psai/psai.html)

"Regional Style Heraldry"; with Andrea Habura; Proceedings of the KWHS (SCA), Chicago, Illinois, 1993

"Muslim Heraldry: An Introduction"; The Islamic World, The Compleat Anachronist, #51, Society for Creative Anachronism, Milpitas, California, September 1990

"Muslim Heraldry [in the Middle Ages], An Introduction"; Proceedings of the KWHS (SCA), Leavenworth, Kansas, 1988





Memberships:

• Académie Internationale d'Héraldique (Associate)
• The Heraldry Society (England)
• The Royal Heraldry Society of Canada
• The Heraldry Society of Scotland
• The American Heraldry Society
• The American College of Heraldry
• The International Association of Amateur Heralds (Fellow)
• Society of Mayflower Descendants
• The Blaisdell Family National Association
• Sons of Union Veterans of the Civil War
• The Winslow Heritage Society
• The American Rosie the Riveter Association
• Susannah North-Martin Legacy Facebook Group
• Chilton's Children Facebook Group
• James Chilton - The Descendants Facebook Group
• Genealogical Speakers Guild (www.genealogicalspeakersguild.org)
• Listed on the Texas State Genealogical Society's Speakers Bureau Directory (http://www.txsgs.org/resources/speakers-bureau/)






Availability and Fees
Travel:
At your expense: Anywhere.
At my expense: Much of Texas, Louisiana, Arkansas, and Oklahoma, my schedule permitting. Other locations may be available depending upon schedule, other travel plans, etc.
Fees and Expenses:
Hourly and workshop/seminar rates available. Travel and lodging expenses, if not otherwise pre-arranged, are at actual cost.
Let's talk!
---
For inquiries about a specific presentations, available dates, or for additional information,
contact David Appleton at the address, telephone number, or e-mail address here.